EMBODIED SELF
Yoga Retreat in Kea Island, Greece
JULY 17-23
With Tanya Popovich
On this retreat we will be shedding the layers that veil our essence in order to reconnect with our embodied self.
Through conscious breathwork, dynamic movement of Vinyasa Yoga, classical esoteric yogic practices for intentional and focused energy cultivation, and meditation and hypnotherapy techniques we will come back to our authentic nature.
Morning Yoga:
Includes energizing and balancing breathwork, dynamic Vinyasa Yoga suitable for all levels, and a meditation or guided relaxation practice.
Afternoon Practices:
Dedicated to slower, more mindful movement through gentle, Yin or Kundalini Yoga, calming and tranquilizing breathwork and guided Hypnotherapy.
SPECIAL OFFERINGS
Vital Wheels Theory
introduction and theory of our energetic anatomy (Chakras) and its relevance to human psychology. In Yogic tradition, the human body has seven energy centers called chakras. Each one corresponds to a different aspect of our life, such as embodiment, survival, security, movement, fluidity, sensation, relationships, boundaries, sense of worth, confidence, etc. We will go through each center and what it represents physically and psychologically and how it influences our life.
Vital Wheels Practice
Yoga and embodiment practices for each chakra When these energy centers are healthy, with ample energy flowing through them, with no blockages in either the incoming or the outcoming energy, so are we – physically, emotionally, and in our relationships. But when they are blocked through injury, illness, or disconnection from ourselves and others, this imbalance shows up in our lives. We will explore in this session practices for each energy center and ways in which to enhance the energy flow and exchange.
Closing Ceremony
Our time together culminates in a beautiful closing ceremony where we share a circle of love, trust, friendship and a deeper embodiment within ourselves. Expect a guided meditation, soul-gazing practice and a sharing circle. Please wear all white clothes.
MORE INFORMATION  HERE
WHAT YOU WILL TAKE HOME
How to connect to our sacred essence
How to create seasonal rituals to support emotional well-being
Self-care tools
How to hold a personal tea ceremony
Meditation practices
A 40-day Therapeutic Breathwork Sadhan
MORE INFORMATION  HERE
RETREATING WITH US
6 days/nights long, from Sunday to Saturday
Full board in an upscale traditionally designed cottage with private balcony
Two yoga classes per day
One meditation or celebration/ceremony per day
3 abundant and delicious meals each day (by Uri, our Michelin trained chef)
One group dinner at Kea Retreat's family's taverna
Yoga equipment and accessories (mats, blocks, bolsters, straps, and blankets)
Open poolside bar and snacks
Complimentary tote bag for the beach
Pickup and drop off at ferry station
Swimming pool with in water lounging section
Vegetable garden
A private bay
Spontaneous dancing every night
MORE INFORMATION  HERE
ADDITIONAL ACTIVITIES
Kayaks
venture into the sea with our kayaks, double or single, to discover caves and more isolated beaches.
Snorkeling
for those looking to discover what's lurking under the surface and meet our local fish, or do some shell diving, snorkels and goggles are available.
Illoulida
walk down to the ancient capital, Ioulida, during sunset hours to explore the beautiful architecture and small shops (clothing, ceramics, local produce).
Island boat trip
set sail around the island on a calm ocean bed to uncover hidden corners of the island that can only be experienced by boat.
Hikes
the island is full of ancient trails that cross through farmlands and forests, up greeny hills, or down to secret shores with ruins from the 12th century BC.
Kastriani monastery
drive up the windy cliffs of the northern peak of the island to the breathtakingly beautiful blue and white Greek orthodox monastery that overlooks the Aegean sea.
Winery
have a picnic between the grape leaves of Kea Retreat's vineyard while sipping on their locally grown wine.
Arts and crafts
feel free to use the art supplies situated on the shelf and let your creativity flow.
Music and Instruments
strum away at the guitar or play the tibetan bowls to the intoxicating sounds of nature.
Relax
unwind by picking a book off of the shelf and laying down on one of the outdoor beanbags, hammocks, or couches, or take a few more steps down to the beach and soak up some sun.
MORE INFORMATION  HERE
TEACHER'S NOTE
This retreat is about understanding that we hold the medicine we need in order to transform our lives. It will be a safe healing space that will bring us together in community in order to come back to ourselves, to make friends, and to celebrate existence. By slowing down and reconnecting to the rhythms of nature, we will align with the beauty of the present moment.
It is a week of cultivating joy, space to reflect, rest and abundant self-love.
MORE INFORMATION  HERE
EXTRA PRIVATE SERVICES
Marisel seeks to connect you to your deeper truth, to create space for presence, self-nourishment and community.
TANYA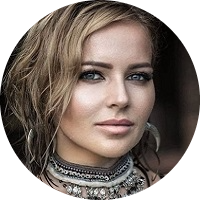 Tanya is a certified Jivamukti Yoga Teacher, Yoga Alliance ERYT-500, and Yoga Acharya (Master of Yoga) in classical Sivananda Yoga tradition. She started her meditation practice at the age of 14 through Transcendental Meditation. Her 20 years of experience practicing and 17 years of teaching Yoga includes numerable yoga trainings in classical and modern styles of yoga, and long stays at Yoga Ashrams across India. For the past 16 years Tanya teaches yoga internationally including 200-hr and 500-hr Yoga Alliance certified educational programs, Yin Yoga and Aerial Yoga training programs, Breathwork and Meditation trainings, Vedanta philosophy, workshops, seminars and cultural retreats.
​
Swaha Yoga Center founder
Shri Gaia Institute founder and Yoga Teacher Training director
Yin Resonanceâ Yin Yoga Teacher Training founder
Uplift Another – refugee scholarship program and Trauma Informed Teacher Training program founder
Swaha Aerial Yoga founder
To see Tanya's full bio click here